PEOPLE PLACES THINGS | MODERN MESS
AN INTERVIEW WITH A MODERN MESS
Over the past few months I've had to honor and pleasure of working alongside Modern Mess on styling for many of my shoots. The boutique, located in the Tulsa Boxyard in the East Village of Downtown Tulsa- carries forward thinking pieces that are on trend and supporting (and growing) the shop local movement.
I recently sat down with owner and founder Carley Johnson to learn more about how Modern Mess came about and what makes her store stand out amongst the rest.
TL: The Boxyard has been open for less than a year but Modern Mess has definitely shown to be a front runner for the growing East Village attraction. How did you get your start and how did The Boxyard home your first brick and mortar location?

CJ: I worked on the concept Modern Mess throughout my senior year while studying business at Rogers State University. A family friend referred me to 36 Degrees North for resources, and I learned about The Boxyard from someone at a networking mixer. When I found out more about the unique shopping center I knew it was a perfect match! I signed my lease as soon as I could.
TL: How would you describe the Modern Mess? Who is she? Take us through her day and life.

CJ: The Modern Mess can be whoever she wants to be. She dresses for the roles she takes on in life, or that day. Some days she looks so put together, and others she may appear completely grunged out. She doesn't define her style because she refuses to limit herself to just one adjective.
A typical Modern Mess is passionate, brave, and not afraid of standing out. She's the first to try out a fun new trend, and sometimes she sets them without knowing. She makes mistakes, laughs at herself, and embraces her imperfections because let's face it—perfection is such an unachievable drag!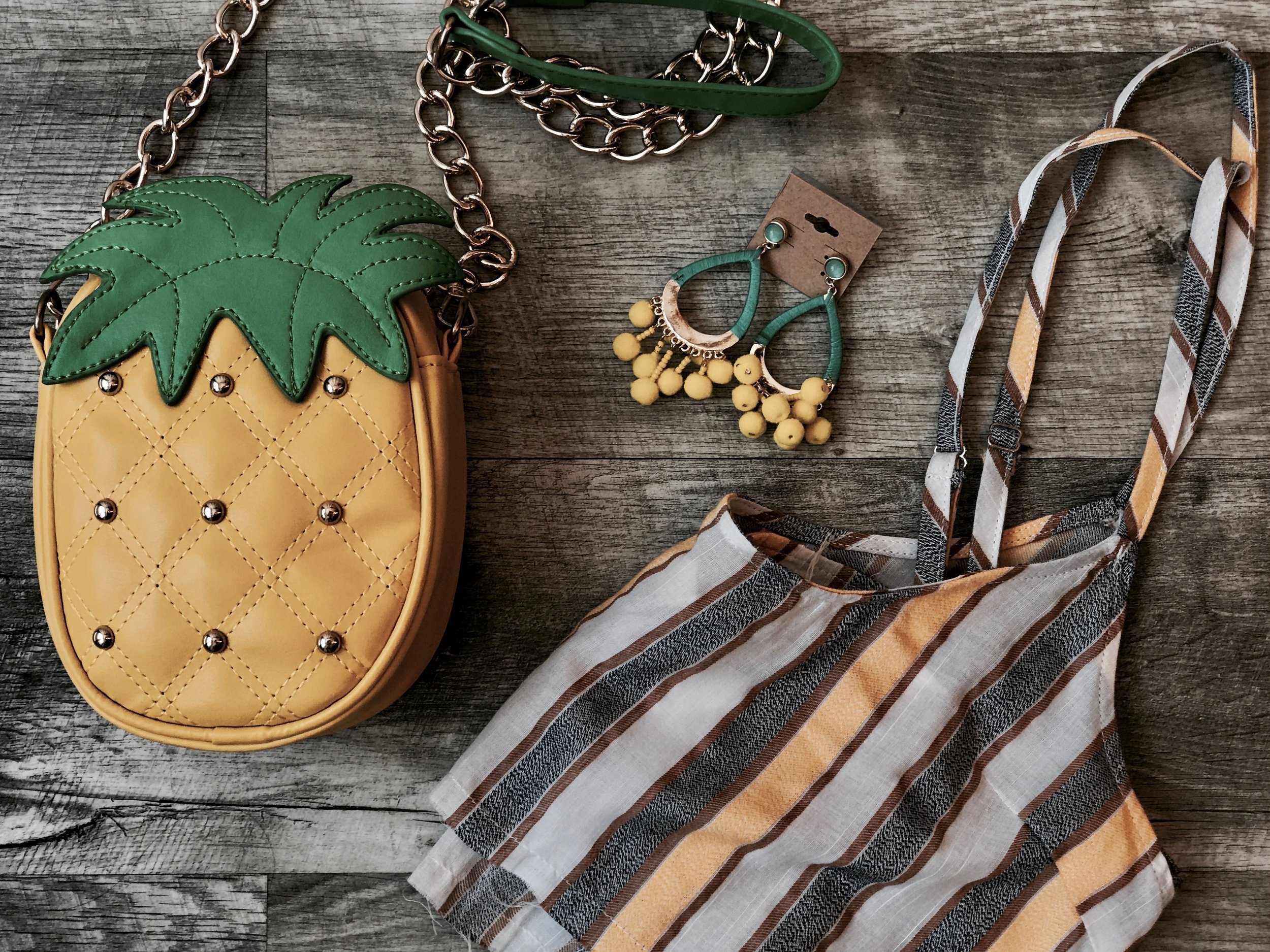 "A typical Modern Mess is passionate, brave, and not afraid of standing out."
"I started dressing myself at age 4 (not always well)."
"I have a borderline unhealthy obsession with poodles."
"Soccer is my third love."`
"It takes me 20 minutes to do my eyebrows and 10 minutes for literally everything else (not sure if that makes me a diva or if I'm just that bad at doing my eyebrows)."
"I'd be perfectly happy living with a diet that consisted entirely of potatoes."
5 FACTS ABOUT MODERN MESS
"The name was created when I was sitting in my dorm at school wondering if I could ever be an industry professional with such a messy room (and life)."
 
"The biggest inspiration that pushed me to take the risk of starting my own business was Sophia Amoruso's book Girl Boss."
 
"6 months before I opened the storefront, Modern Mess was sold online and at occasional pop ups for sorority houses."

"This little store is only 320 Sq. Ft. in a repurposed shipping container!! "

"There is a poodle (piggy) bank in the store named Poppy. I promise she is not a tip jar. All of Poppy's donations will go to OOPS (Oklahoma Orphaned Poodle Services) where poodles and poodle mixes are rescued and found forever homes."
TL: Your store is well curated and shows a definitive style and aesthetic. How do you buy for your store? What do you look for? What are the must haves?
CJ: When I buy for the store I like to think in themes and color schemes. I pay close attention to seasonal trends in color, fabric, pattern, and style. I like to put a little twist on each. I enjoy bringing trends from decades past back with some modification for the now. I love the history of fashion and how it can tell a story. I look for pieces that will speak to individuals, not a collective group. I want Modern Mess styles to be vintage gold in 30-50 years.
TL: We have seen so much growth for Tulsa over the past few years with shopping local- especially within the younger demographic. With mainstream mall shopping declining and big box retailers shutting down, why do you think shopping local is sustaining & growing?
CJ: I think people are starting to appreciate the little things in life, and that's what shopping local provides! Every store is curated by an owner/buyer who loves what they do. People feel the energy that is someone's passion! Some of my most cherished and inspiring shopping experiences have taken place in small businesses where I get the most personalized service. When you shop local you are supporting your neighbor's dreams. That is so satisfying to me!
"I look for pieces that will speak to individuals, not a collective group."
TL: When a customer walks into Modern Mess, what are the things they can expect shopping with you and your store? What makes you stand out?

CJ: Expect the unexpected, always! I love seeing the looks on people's faces when they walk by and see an item through the window that catches their eye. It almost always brings them in the door.
I love providing a shopping experience that is affordable and high quality. I do personal styling for everyday wear, occasions, and just because it's so fun to play dress up! Prepare to be taken out of your comfort zone. This is your chance to get creative and be imaginative with your style!
TL: Where do you see Modern Mess in the next year?
CJ: Oh boy, Modern Mess a year from now! I would love to see an online store up and running for those who don't get the chance to shop in the Tulsa store, and a lifestyle blog that correlates with the brand. The possibilities are endless because this is only the beginning! -
Modern Mess is located at the Tulsa Boxyard in the East Village of Downtown Tulsa. 502 E. 3rd St. Unit 4. Follow them on Instagram at @mymodmess. For more information visit www.mymodmess.com.
-T.